CDROM2GO Goes Casual For A Cause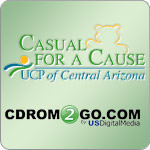 CDROM2GO has been a proud sponsor of United Cerebral Palsy of Central Arizona for many years. It was our pleasure to participate once again in the annual Casual for a Cause fundraiser this past month.
Casual for a Cause offers employees a chance to dress comfortably during the week as a reward for their contributions to the fundraiser. Employees who donated received stickers, T-shirts, and a Casual Bear of their very own. A $50 dollar gift card was awarded to the employee who made the largest contribution.
All of the funds raised during Casual for a Cause help UCP of Central Arizona work towards its goal of providing "life without limits for people with disabilities." Approximately 89% of all revenue received goes directly to its programs and services.
That revenue allows UCP to provide education, employment, therapy and habilitation services to people with disabilities. But most of all, they provide a caring environment for people who need it.
CDROM2GO is honored to be a supporter of UCP and Casual For A Cause and looks forward to additional charity events in the future. We'd also like to thank our employees for their donations and their support of UCP. Way to go, everyone!