Recycled Paper CD/DVD Sleeves Now Available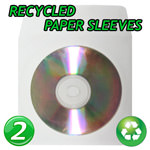 CDROM2GO is proud to offer a wide selection of disc packaging options. We carry everything from standard CD cases and DVD cases to cardboard and padded mailers, vinyl sleeves, plastic cases, wallets, albums, binders, VarioPacs, and much more.
The newest addition to our family of packaging is the recycled paper CD/DVD sleeve. Though it looks like a regular paper sleeve, it is made with post-consumer recycled paper. This process helps save paper goods from ending up in the landfill and gives them a new use as disc sleeves.
Our recycled paper sleeves are a light weight and low-cost way to distribute your CDs and DVDs. They are a great bargain for situations where retail packaging is not necessary, or when discs will not be seen or used by customers. This includes distributing information to the various branches of a company, internal training videos, and data backup discs.
If you plan on sending discs through the mail, paper sleeves are a great first line of defense against scratches and damage. A paper sleeve fits neatly into a padded bubble envelope or cardboard mailer, for an easy way to distribute your CD and DVD discs.
The USDM recycled paper CD/DVD sleeves also feature a clear window so that the artwork on the disc is always visible. A flap helps the discs stay where it's supposed to during transit.
On top of all that, paper sleeves have plenty of printable space on the back for your name or logo. Paper sleeves give you the freedom to get creative with a custom rubber stamp, preprinted adhesive sticker, or other eye-catching medium.
Finally, the best part about the USDM recycled paper sleeves is the price. Right now you can get a 100-pack of sleeves for just $0.12 cents each! When you buy in bulk (10,000 sleeves or more), the price drops to just $0.08 cents each. Wow! Recycled paper sleeves are the best choice for sustainable disc packaging available today. If you haven't done so already, we encourage you to check them out!