Tips for Better Printing with Your TEAC P-55 Printer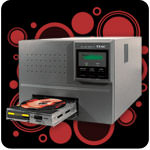 When it comes to thermal disc printing, the TEAC P-55 is one of the best disc printers around. Here are some top tips to help you get the best possible prints from your P-55 printer:
1. Use the Right Discs
If you have a thermal disc printer, make sure to use thermal printable CDs and DVDs. The hub-printable kind allow you to extend your artwork all the way to the center of the disc, without the unsightly clear ring of a standard disc. Hub printable media is available in both white and silver for your printing needs.
2. Choose the Correct Ribbon
Thermal printers such as the TEAC P-55 are neat because they can accommodate a variety of different ribbons such as black, color, photo, and VersaMax. The black ribbon is excellent for printing text or vector artwork and yields an amazing 2,000 prints per disc! The color and photo ribbons produce vivid, bright colors and are great for printing color logos and photographs. The VersaMax ribbon contains a special adhesive panel that guarantees your art will stick to any disc surface!
3. Don't Forget the Accessories
It's easy to get caught up in the excitement of a print job and forget to order a critical component like a transfer ribbon or ribbon rack for your printer. That's why we recommend stocking up on transfer ribbons, cleaning kits, and a spare ribbon rack or two so you can quickly swap ribbons without missing your deadline.
4. Perform Regular Maintenance
How is owning a thermal printer like owning a car? Well, they both run more smoothly with regular maintenance. For TEAC P-55 owners, the air filter on the back of the unit should be cleaned of any dust. Also, we recommend that the thermal head and platen rollers be cleaned periodically for best print quality. A TEAC-compatible cleaning kit from CDROM2GO is a great way to keep your machine running smoothly.
5. Free Yourself with an Autoloading Platform
Get more from your TEAC thermal printer by adding an autoloading platform! Available in both 220-disc and 550 disc capacities, an autoloading platform has a robotic arm that will load and unload discs from the printer until the job is finished. This means you are free to work on other projects while the machine is printing. Going automated makes printing a snap, not a chore.
With these helpful tips, you can be sure to get the maximum value and productivity from your TEAC P-55 thermal disc printer. Happy printing!