Robot Wars: 5 Automated Disc Publishers Face Off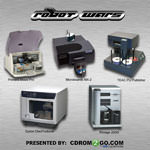 Tonight we are proud to bring you a very special event. Five of the world's top disc publishing contenders will go head to head to determine which one deserves to be crowned the champion of the disc publishing universe.
Rest assured that each of these machines are the result of some serious technical engineering by the best disc handling robotics professionals in the country, if not the world. Countless late nights, hundreds of man hours, and many thousands of dollars were spent researching, developing, and testing each machine before they were put into production. Now they go to war!
Each machine is equipped for high volume disc production with a photo-quality inkjet print engine and two DVD/CD recording drives. All of the units feature sophisticated robotics used for loading and unloading discs. Almost all of the machines feature a 100-disc capacity except for the TEAC, which raises the stakes with a whopping 220 disc capacity.
The defending champion is the Bravo Pro disc publisher from Primera. This machine has a tried-and-true print engine and is backed by one of the biggest names in the business. It is also the most affordable printer on our list, which makes it an extremely appealing upgrade from a smaller disc publisher. A robotic arm loads and unloads up to 100 discs between the 2 burners and the printer, which features a two-cartridge system of tri-color + black for good color reproduction.
The newest contender and powerful puncher is the  Epson DiscProducer. As Epson's first foray into professional disc publishing, this machine defies tradition at every turn. It is front loading instead of top loading and features six individual ink-tank style cartridges with low ink warning lights right on the front of the unit. Yet it still prints and burns up to 100 discs per run with two DVD/CD burners and Epson's high-resolution inkjet engine.
When you have a problem, count on Microboards to deliver a unique solution. Their MX-2 disc publisher burns and prints discs just like the competition, but does not rely on a specialized robotic arm. The Microboards solution? Use gravity! The MX-2 (and other Microboards equipment) make use of a 100-disc singulator on top of the machine that lets the discs simply drop through the machine. From burn to print the process is completely automatic. Fewer parts reduce the probability of something malfunctioning.
Although it sports stylish good looks, the Rimage 2000i is no "pretty boy." When it gets down to business, the 2000i is a lean and mean disc publishing machine! Start with the photo-quality inkjet printer, and add a 100-disc capacity for high volume jobs. You'll find the compulsory dual burner setup but Rimage tops it all off with network publishing capabilities. The 2000i is more than just eye candy, it's ready to rumble!
Finally, we come to the muscle head of the group, the TEAC PIJ with Autoloader platform. This machine does more than just look impressive – it delivers in a big way. I'm talking about a capacity of 220 discs, which is more than twice that of the competition! Add a high-resolution disc printer and an advanced robotic arm, and you've got yourself one heck of a disc publisher. The two units are modular so you can remove the printer from the autoloader/burners, in case something might go wrong or if you decide to swap out the inkjet printer . . . for maybe say, the TEAC P-55 thermal printer? But that is a whole different fight card.
While these five machines have a lot in common, the differences between them are minor. Whether you prefer a few extra ink cartridges or a higher disc capacity, the choice is yours. As far as we're concerned, they're all worthy adversaries. It's a safe bet that if you pick one of these five machines for your CD duplication and DVD duplication needs, you won't be disappointed.