Review: Epson's Artisan 700 Printer Is a True Master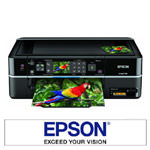 There are lots of different words one might use to describe a talented individual. Expert, useful, and handy come to mind. Only someone who is a true master of their craft deserves to be called an artisan. So does the new Artisan 700 all-in-one printer from Epson live up to its name? Let's take a closer look at the machine to find out.
The Artisan 700 is known as an "all-in-one" device, probably because people got tired of saying "printer-copier-scanner-and-memory-card reader" machine. Of course, that's just the tip of the iceberg when it comes to the capabilities of the Artisan 700.
It doesn't "just print" documents, it spits out 38 pages per minute in black or color. It doesn't "just make copies," it produces black and color copies with full page scaling and color restoration features. It doesn't "just scan" documents, it imports them in rich 48-bit color with direct-to-PDF file capabilities.
This is the nature of the Artisan 700. It doesn't "just" do anything. Every function of the machine is the best it can possibly be. From the memory card reader that seamlessly handles over 20 different card formats to the built-in wireless network receiver, there's no question that Epson has done a great job packing plenty of features into the stylish black device.
But how does the Artisan handle its primary task of being a desktop printer? Very well. In fact, it uses the same MicroPiezo® 6-color print engine with DX5™ technology that I loved in the Epson RX680. The 1440-DPI resolution and high definition Claria ink cartridges produce brilliant colors and sharp text, no matter if you're doing a full-page borderless photo print or an inkjet printable CD or DVD disc. Have I mentioned that part already? That's right, the Artisan can print directly on discs with the included tray adapter!
Of course, the Artisan is not without flaw. Almost everything you need to get started is included, minus the USB connection cable. Would it really have been so hard to throw one in the box? On that same note, a special auto-feeder is now required for automatic duplex printing. Manual duplex mode is still possible, but you will need to flip the paper over yourself. Other than that, this machine hits the target in every way.
In my experience, the Epson Artisan 700 is not just an amateur device with a few notches under its belt. Rather, it handles every aspect of your photo and print production needs with the skill and precision of a seasoned veteran. Like a real artisan, it is truly a master of its trade.