Which CD/DVD Duplicator is Right for You?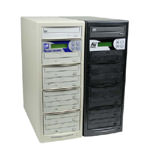 CDROM2GO is your #1 source for affordable duplication equipment and supplies. We manufacture our own brand of Accutower and AV Pro standalone duplicators at our facility in Phoenix. With over 40 different models available, which is the right CD/DVD duplicator for you?
Accutower
This fully-loaded tower is the workhorse that duplication professionals around the world depend on. The Accutower by US Digital Media is available with an 80GB or 250GB hard drive and up to 11 burners, which makes it great for cranking out thousands of copies in no time. The controller has loads of advanced features that are easily accessible at the touch of a button, and the backlit screen is easy to see in any light.
Better yet, every Accutower comes with a standard 1-year warranty and FREE lifetime tech support for as long as you own the machine. It's no wonder the Accutower is our best-selling CD/DVD duplicator tower.
AV Pro
When you want top performance at a great price, our AV Pro towers cannot be beat. The easy "Load and Go" operation makes them a snap to use. Create hundreds of copies in a short time with the simplicity of our AV Pro CD/DVD duplicators.
AV Pro duplicators are available with up to 11 high-speed burners for maximum productivity. They can automatically detect and copy CD, CD-R, CD-RW, DVD, DVD-R, DVD-RW, and DVD+R discs with no extra configuration! Plus, you get the same great warranty and free tech support as a standard Accutower machine.
If you're still not sure which standalone CD/DVD duplicator best fits your needs, we invite you to give one of our knowledgeable sales representatives a call. They would be glad to assist you in answering your questions about all of our products and services. You can also chat with our sales team live via our website at www.cdrom2go.com.