Save Money by Wrapping Your Own CD and DVD Cases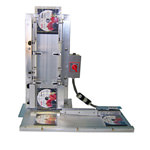 What's the difference between an amateur duplication project and a professional project? About 32 microns. No, seriously! That's the thickness of the plastic wrap that covers every CD and DVD case in major retail stores. 32 microns is approximately .00130 of an inch, or the thickness of a human hair. So how can such a thin piece of plastic make such a big difference?
Sealing movies, music, and even video games in polypropylene plastic wrap is an industry standard practice for several reasons. First, it helps protect discs from scratches and scuff marks during shipping. Shrink wrap also helps keep dirt and moisture from entering the CD or DVD case. Finally, it also helps to prevent theft in retail outlets.
By overwrapping your own CD and DVD cases, you can give your product a professional, store-bought look without spending a fortune. It's easy to wrap your own cases with a Recordex overwrapper machine from CDROM2GO. An overwrap machine is the fastest and cheapest way to get started shrink wrapping your own cases.
Whether you need to wrap full-size DVD cases, or CD jewel cases, Recordex has an overwrapper for you! Getting started is easy and the included training video will have you wrapping cases like a pro in no time!
Don't forget to check out our website to learn more about the difference between shrink wrap and overwrap.