New Blu-ray Discs Provide Maximum Storage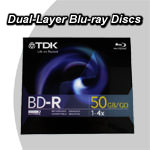 What could be better than the high definition quality of Blu-ray? How about a Blu-ray disc with twice the capacity? Just like DVD-R media, which is available in single-layer and dual-layer discs, Blu-ray has also gone dual-layer.
With a dual-layer BD-R disc, you can store up to 50 gigabytes (GB) of information! That's twice as much as a standard 25GB blank Blu-ray disc. 50GB of storage is equivalent to 4 hours of HD video or 20 hours of standard definition video, all on a single disc. Wow!
This extra capacity is great for independent filmmakers and video producers. The ability to fit both the feature presentation and the extras on one disc is not only convenient, it's also affordable. Better yet, the extra capacity of a dual-layer disc is perfect for high-capacity data backups, project files, and other digital storage needs.
If you haven't done so already, I would encourage you to check out dual-layer BD-R discs for yourself. The Falcon Pro BD-R DL discs are in stock now and ready to ship from CDROM2GO.COM