Introduction to LightScribe 101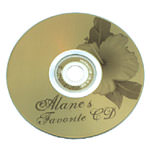 One technology that has been growing rapidly over the last few years is LightScribe. If you're not sure what LightScribe is or how it works, don't panic. Consider this your introductory course to LightScribe 101.
In a nutshell, LightScribe is a technology found in many newer CD and DVD burner drives that allows users to create custom laser-etched labels on the disc surface.
With a LightScribe capable burner and some Verbatim LightScribe CD-R or Verbatim LightScribe DVD-R discs, the process of burning and labeling discs is very easy. The slogan "Burn, Flip, Burn" means exactly that. Burn your data on the disc, flip the disc over, and burn the label on the disc. It's that simple!
With a duplicator like the Accutower LightScribe, you can create your own LightScribe discs easily. The included software lets you connect the tower to your computer and transfer artwork files directly. A special laser etches your text or artwork onto the disc surface, which means you do not need a separate printer for labeling discs. You can forget about buying ink cartridges because LightScribe duplicators do not need them!
It's easy to see why LightScribe is so appealing. For a high-volume and low cost solution to labeling discs, nothing else comes close. Look for our new line of LightScribe duplicators coming later this year!