Get Your Burn On with Free Software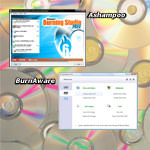 Recently, I came across an article on CNET called "Best Software for a Tough Economy."It lists 11 programs that are surprisingly good, when you consider that they are completely free to download and use.
I was delighted to see that two of the programs featured in the article are CD/DVD burning programs! I'd like to take a moment to expand upon those two programs and why they are so useful.
The first burning program mentioned in the article is BurnAware Free. This nifty program lets you create and burn CD, DVD, and even Blu-ray discs! BurnAware also offers advanced features like bootable discs, multisession discs, and support for ISO image files. Wow!
The other program to be featured is Ashampoo Burning Studio Free. This program offers everything BurnAware does, but with even more bells and whistles. Ashampoo has a file backup and a music compression ("ripping") feature on top of the usual CD, DVD, and Blu-ray burning functions. Best of all, there is no cost to download and use it!
These programs offer an impressive variety of burning features at the right price. With either of these programs, you can create master discs on your home computer or laptop with the greatest of ease. From there, you can copy the master disc in any kind of duplicator, such as a Primera Bravo or Accutower duplicator. For an easy way to create master discs, I encourage you to check out these fine FREE programs!