Tech Guy: Epson RX680 Printer Reviewed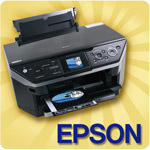 I've always believed that any difficult task can be made much easier by simply having the right tools. When it comes to do-it-yourself desktop publishing, the Epson RX680 is my preferred tool of choice. Now let's see how many previous "Tech Guy" articles I can reference while explaining what I like about the Epson RX680…
Think of the RX680 as a digital toolbox for your desktop publishing needs. Please excuse me for sounding like one of those late-night television infomercials, but this multifunction printer has got more features than a Swiss army knife. I am really impressed with how much functionality has been packed into this stylish desktop unit. In fact I could spend all day raving about the features of this machine, but for your sake dear reader, I will just hit the key points.
One of the best features of the RX680 is its ability to print directly on inkjet printable CD-R discs. The included disc tray makes it a snap to print full color artwork and text in just seconds. The Hi-Definition Claria inks are also smudge and smear resistant, and provide really bright, long lasting colors. Try printing with USDM Smudge Guard inkjet printable discs for amazing glossy results (and they're water-proof, if you remember my previous article).
Printing your own artwork is a great way to keep costs down while still producing a professional-looking disc. Speaking of costs, those Claria inks come in six separate cartridges which will save you money in the long run, since you only need to replace the colors you run low on (also a handy feature covered in one of my previous articles).
In addition to discs, the photo printing capabilities of the RX680 have been greatly expanded. The built-in memory card reader and color LCD screen make loading and viewing images effortless. A full set of photo editing tools lets you crop, rotate, enlarge, and remove red-eye from photos before printing. You even get to see a live preview on the 2.5-inch color LCD screen. In fact, you can print photos without turning on the computer! For full featured photo editing, you can run the included ArcSoft Photo Impression software on your PC. Now that's versatility! (I think I covered versatility in a previous article).
One of the most important features of this printer is, of course, the printer. It features two separate paper trays, which is handy if you frequently switch between plain and glossy paper. The automatic duplexer takes the guesswork out of printing double-sided documents because it handles everything without requiring the user to reinsert the paper stack. Just think about how much time and paper could be saved when duplex printing is this easy! (Recall my recycling article from this past fall).
On top of the printer lies the combination scanner/copier. With a whopping 9600 dots-per-inch (DPI) optical resolution and 48 bit color, the RX680 has the hardware muscle to crank out up to 40 copies per minute, as well as scan documents directly to Adobe PDF format without a computer! This machine is like a full time intern, except it never asks for a break and it's always around when you need it. (I don't think I wrote about copiers before…perhaps in a future article).
Whether you use it at the office or at home, the Epson RX680 is the perfect tool for every digital job. Take printing, copying, scanning and professional disc printing to the next level with this multifunction marvel. Just imagine how good your copies of my articles would look when you print them with the RX680, or burn backup copies and print my smilin' mug right on your CDR media! Ah yes, the possibilities are endless!
You can post your thoughts about this article by clicking the "Comments" link!